NFC products are one of the next big things set to go viral, with companies rapidly expanding and developing the technology through word of mouth marketing. 2 billion NFC enabled mobile devices currently operate worldwide, and with technology that branches out to so many globally, it would be foolish to not jump at this opportunity when developing a marketing campaign strategy. 
At goTap we create targeted campaigns incorporating NFC marketing technology for your company or brand. We can design and easily program personalised NFC tags on products for your store, office or visual display. To explain this a bit further, an NFC tag is an "unpowered microchip that is embedded in a product label, retail display, a smart poster, or most places where you see this symbol (N-Mark)." 
To utilise this on your device, all you have to do is simply tap your device against an NFC tag, and information is sent directly to your phone, providing anything from product information, offers or rewards to interactive experiences from events, stores and big name brands.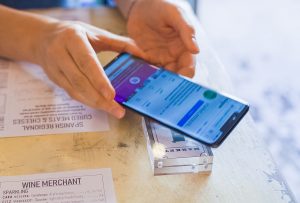 No matter what industry your business operates in, NFC products can be adapted to suit any audience or brand. Examples could be any of the following:
NFC enabled strut cards, bottle tags or beer mats for restaurants and bars, allowing customers to order or pay from their phone or advertise an offer.

Business cards or complimentary slips to market your business and brand to new clients

Tent cards or ballard covers for retail stores and shop shelving displays to draw customer attention to a particular product or discount.
Tap products can be used to push online websites for additional site conversions or social media, access vouchers or reward schemes, lead customers to specific product info with ease, or simply find a business location. There's also a large variety of marketing merchandise our tags can be applied to, including leaflet dispensers, flyers, stickers, business cards or table talkers. There's a huge range of choices that our NFC marketing technology can be applied to, working closely with you and your business to design a strategy and finalised product specifically suited to your business, product or brand style.